Brazilian Butt Lift (BBL)
Offered at our convenient location in San Antonio, TX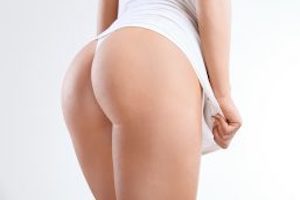 Commonly called a "butt lift," this procedure creates more distinctly shaped, fuller buttocks and lifts the drooping skin that sometimes starts to sag towards the legs with age.
This procedure is not the same thing as a "Brazilian" butt lift, which uses fat transfers to add volume in this area. And as with the others, future weight gain and loss may affect the results.
We offer Sculptra butt lifts, which have revolutionized the field. With Brazilian butt lifts, liposuction is needed in order to gather fat to be injected into the buttocks. But with Sculptra, micro-invasive injections are given just below the skin. This means that patients with very little fat can successfully enjoy rounder, fuller buttocks.
With a Sculptra butt lift, there's no downtime like there is with surgical procedures.
Sculptra can also assist those who have trouble shaping their buttocks through diet and exercise alone. The results are subtle and natural-looking, and the procedure may take as few as thirty minutes. Please call our office to learn more.
As with all surgery, results and costs vary from patient to patient. Our team would be happy to discuss what you can expect at your consultation. Give us a call today to schedule your consult.