Eyelid Surgery (Blepharoplasty)
Offered at our convenient location in San Antonio, TX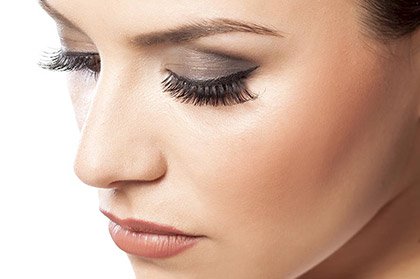 A blepharoplasty, or eyelid surgery, is a rejuvenating procedure that resolves aesthetic and vision concerns by strengthening muscles and eliminating redundant tissue around the eyes. Performed in upper and lower eyelids, this treatment ensures that a youthful appearance and line of sight are protected from signs of aging. Regrettably, the passage of time, genetics, and certain lifestyle choices can weaken muscles and cause skin laxity. When coupled with a decrease in collagen production, a domino effect of weak muscles and sagging skin can lead to an unintentional angry, tired, or worried expression.
A blepharoplasty can reverse this trend by making surgical adjustments to the eye muscles, skin, and fat tissue. After a quick recovery, patients enjoy a revitalized and refreshed facial aesthetic. These adjustments are also extremely beneficial for those suffering from obstructed vision caused by hanging skin.
Dr. Wendie Grunberg and Dr. Edward Gronet of Alluring Aesthetics are here to restore a vibrant facial aesthetic. To learn more about the procedure, contact our San Antonio offices at (210) 714-5390. Or, you can use the online contact form to schedule a consultation.
Before & After Photos
View More Photos
About Blepharoplasty Surgery
The eyes are a delicate area of the face. As the tiny muscles that open and close our eyelids weaken and collagen becomes scarce, many people experience ptosis. This can occur over or under the eye and can lead to an older, unflattering appearance. The condition can be much more than a cosmetic inconvenience. Sagging, hooded skin over the upper eye can negatively impact your field of vision. [1] This can be caused by an underlying condition or be passed down through your genetics.
Luckily, a blepharoplasty can resolve these concerns by adjusting the tissues surrounding the eye. To achieve this, Dr. Gronet will perform an upper or lower eyelid blepharoplasty that can be performed separately or together in one appointment. An upper eyelid procedure addresses skin folds and loose skin forming over the eyes that are causing a hooded, heavy appearance for the eyes. [1] A lower eyelid lift removes fat deposits or the sagging skin that causes under-eye "bags." Surgeons perform blepharoplasties by making small incisions along the upper eyelid crease, or just below the lash line of the lower eyelid. Once they have access to the internal structure of the eyelids, they remove excess skin, reposition fatty tissue, and reinforce the muscles. [2] The surgery ends by closing the incisions with sutures.
Benefits
A blepharoplasty creates a rejuvenated, genial facial appearance and improves vision. This procedure also provides:
A restored youthful eye shape
Smoother eye contours without wrinkles, lines, and sagging skin
Improves the line of sight
Endows patients with an alert, engaged expression
An increase in self-confidence
Discreet incisions and fast recovery time
Candidates
This transformational procedure allows healthy men and women to correct lax skin causing cosmetic or vision concerns. To be approved for surgery, Dr. Grunberg will thoroughly assess your case to confirm whether this treatment will serve your needs.
Ideal Blepharoplasty Patients Are
In good health without underlying eye problems such as glaucoma
Non-smokers or able to stop before their surgery and for the duration of their recovery
Concerned by a tired or grumpy expression
Have hooded eyes or are troubled by under-eye bags
Looking to make positive improvements to their eyelids and have realistic expectations for what the surgery can achieve
Personal Consultation
A consultation meeting at Alluring Aesthetics is your opportunity to describe your concerns and better understand how blepharoplasty can address them. To start, we'll review your medical history. Then, we'll evaluate the degree of laxity around the area. Bringing in a picture of yourself at a younger age is an excellent way to evaluate the changes that have occurred over time, and to ensure that your unique facial features are preserved. After we've meticulously assessed each detail, Dr. Gronet will offer his expert opinion on the best way to meet your needs, and whether a blepharoplasty will resolve your concerns. Finally, before you leave, we'll provide you with a list of ways to prepare for surgery.
Schedule your initial consultation by calling our San Antonio office at (210) 714-5390. You can also request a consultation online. Just fill out the requested information, and one of our patient coordinators will contact you shortly. 
Preparation
To prepare for blepharoplasty, you'll be advised on the necessary steps to complete before your surgery. They include:
Avoid taking certain medications such as aspirin, naproxen, and other NSAIDs to reduce the chances of excessive bruising and bleeding.
Abstain from smoking for several weeks before your surgery.
Have a friend or loved one pick you up from our office after surgery.
Plan to take 1-2 weeks to concentrate on healing.
Procedure
Your blepharoplasty will be customized to meet your needs, and we'll administer either general anesthesia or local anesthesia to ensure that you remain comfortable for the duration of your procedure. In an upper blepharoplasty, small elliptical incisions are made along the crease of the upper eyelid. Once these small sections of skin are removed, the surgeon can also reposition fat, or access the tiny muscles that control the eyelid. Care is taken not to remove too much fat, and surgeons typically reposition rather than remove this fat to avoid leaving the patient with a gaunt or hollow appearance. Once the incisions are closed, any evidence of the surgery is concealed along the crease of the upper eyelid and hooding is resolved. In a lower blepharoplsty, the incision locations will depend on the specific issues being resolved. Surgeons make incisions either just below the lower lash line, or on the inside of the lower eyelid – a transconjuctival incision. In either case, the surgeon will then be able to reposition the stores of fat under the eyelid.
Once your results are perfected, the incisions are closed with sutures. [3] Blepharoplasty surgery typically lasts anywhere from 45 minutes to two hours. After which, you may go home and concentrate on healing.
Recovery
Your post-surgical symptoms will be the most pronounced in the first few days after surgery, so spend this time getting rest and following after-care instructions. Patients can expect mild discomfort, bruising, puffy eyelids, light sensitivity, and watery eyes for approximately 7-10 days. You'll be given special eyedrops and can place a smooth gel compress [1] over the eyes to alleviate swelling. Keeping your head elevated with resting will also help the swelling to subside quickly. Patients who wear contact lenses are advised to switch to eyeglasses for seven days and wear protective sunglasses for six weeks. Within 1-2 weeks, you should be comfortable returning to light tasks and going back to work. Please wait an additional 4-6 weeks before resuming strenuous activity.
Results
You will see a noticeable, refreshed appearance when you've finished healing and any lingering symptoms are resolved. Now, you can look forward to compliments!
Don't forget to share your results for everyone to see. Engage with us on Instagram and Facebook.
Corresponding & Complementary Procedures
Alluring Aesthetics offers a full suite of facial contouring treatments. At your consultation, we may explore other choices that can be included with your blepharoplasty. Your choices include: 
Facelift
A facelift is a great way to enjoy a younger-looking appearance and long-term improvements. This surgical enhancement repositions the underlying facial tissues to a more youthful, lifted location. Facial skin is then carefully redraped, and any loose excess skin is trimmed away to reveal a firmer, refreshed complexion.
FaceTite
FaceTite is a perfect minimally invasive solution for patients looking to make minor corrections to wrinkles and lax skin on the face. The ingenious solution utilizes radiofrequency technology to melt fat and tighten the skin.
Neck Lift
Neck lifts provide patients with smooth, graceful contours for the neck and jawline. The surgical treatment removes excess skin and fat to resolve wrinkles, sagging skin, and neck bands.
Cost of Blepharoplasty in San Antonio
The final cost of your blepharoplasty is dependent on the unique factors involved in your case and whether you choose to pair additional treatments with your surgery. We'll provide you with an estimated quote at your consultation. Or, you can call the office before your schedule appointment to receive a preliminary quote.
FAQ
Will I still be able to open and close my eyes normally after a blepharoplasty?
Yes, patients will have normal functioning of their eyelids after surgery. In fact, it may be improved! Those experiencing ptosis will often have small sutures placed in the eyelid muscles to strengthen them, and allow better lift for wider-opening eyes.
Should I get a blepharoplasty or a brow lift?
Both treatments provide a rejuvenated facial appearance for the upper third of the face. However, each surgery addresses different concerns. Blepharoplasty is recommended for those with lax skin around the eyes or a puffy or hooded appearance to the eyelids. A brow lift, or forehead lift, is for people with sagging around the eyebrows and reinforces and lifts the lower forehead. 
Does insurance cover blepharoplasty? 
Some insurance providers may cover the costs of a blepharoplasty if it's deemed medically necessary. Patients are advised to check with their insurance to verify if their procedure is covered.
References
Rohrich, R. J., Coberly, D. M., Fagien, S., & Stuzin, J. M. (2004). Current Concepts in Aesthetic Upper Blepharoplasty. Plastic and Reconstructive Surgery, 113(3), 32e. https://doi.org/10.1097/01.PRS.0000105684.06281.32
Zoumalan, C. I., & Roostaeian, J. (2016). Simplifying Blepharoplasty. Plastic and Reconstructive Surgery, 137(1), 196e213e. https://doi.org/10.1097/prs.0000000000001906
Lyon, D. B. (2010). Upper Blepharoplasty and Brow Lift: State of the Art. Missouri Medicine, 107(6), 383–390. https://www.ncbi.nlm.nih.gov/pmc/articles/PMC6188243/