Evoke Chin and Jawline Sculpting
Offered at our convenient location in San Antonio, TX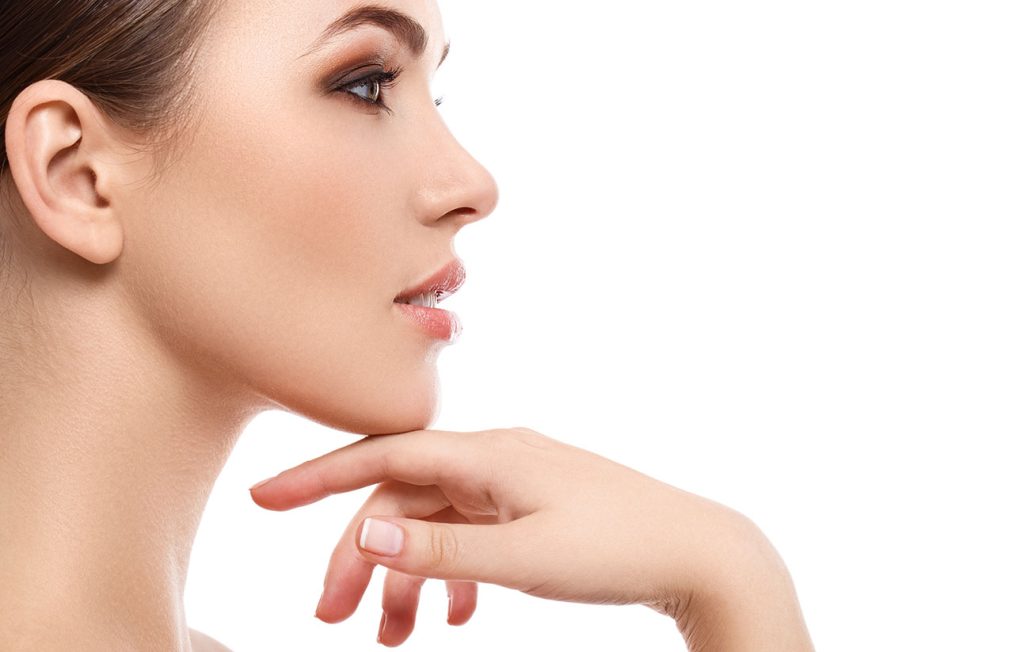 Evoke is a wearable, non-invasive device that uses restorative radiofrequency energy to tighten skin and remodel tissue. With age, our facial appearance can sag, losing its youthful tightness. Lotions, creams, serums, and oils are advertised to tighten skin and restore elasticity, but these offer few results. This is because topicals don't go far enough. The skin's structures need internal change to promote outward rejuvenation! With Evoke, the chin and jawline can be firmed and tightened by activating your own natural regenerative processes. Gentle radiofrequency waves can stimulate the effective collagen production you need to put you on the right track to a clean jawline and chin definition. Dr. Wendie Grunberg and the team at Alluring Aesthetics are excited to offer this innovative technology to patients and confident that they'll love the results.  To schedule your Evoke Chin and Jawline Sculpting, please fill out this online form to request a consultation. If you would like to reach us directly, please call our front desk at (210) 714-5390.
Jowls & Turkey Neck
When it comes to facial contouring, the lower third of the face is often the last piece of the puzzle. Having a smooth jawline definition is essential for maintaining a youthful appearance. Jowls and sagging skin underneath our chin can make us seem and feel, older or heavier than we actually are.
Jowls
Age, genetics, and weight gain all affect our facial appearance, and how it changes over time. Intrinsic (natural aging) and extrinsic (external factors like sun and pollution) aging processes cause less new fresh collagen to be produced and restore and repair the existing collagen fibers. That's what keeps our skin fresh and firm, so without reinforcement, skin starts to wrinkle, sag, and crease. This process is exacerbated by stress, a poor diet, and overexposure to UV rays.[1] And, gravity is not on our side! As the tissue on our face begins to age, many of us start to notice one of the most dreaded signs of aging: jowls. Every patient is different. Jowls typically occur in those who are in their late 40s, or early 50s, but can appear decades earlier for others.[2] And because changes in estrogen levels in older women cause decreased bone density, changes in facial bone structure only emphasize this volume loss.[3] 
Turkey Neck or Double Chin
Excess tissue under the chin impacts the overall appearance of the face. A double chin or turkey neck can cause the face to appear contourless, and have an overly round appearance. A well-defined jawline isn't just a sign of youth, it's also an indication of strong genes, which at one point, was biologically attractive for survival! [4]  
The Power of Radiofrequency
Radiofrequency energy has quickly become the go-to technology for tightening tissue. The Evoke device emits radiofrequency waves that safely penetrate the skin, and generate a thermal effect as they are absorbed in the dermis. This causes existing collagen to contract, and skin to tighten, as well as to activate the body's healing response, and produce additional collagen. Radiofrequency energy induces greater blood flow to the area and triggers heat shock proteins to release in the tissue. Heat shock proteins cause fibroblast cells to produce more collagen which causes the tissue to tighten. After a course of treatment, you'll be able to look forward to a contoured, defined jawline free of jowls and loose skin around the neck.
Benefits of Evoke
When it comes to facial contouring, other procedures can achieve similar results to Evoke, but they don't come with the added benefits. These are how simple the procedure is and how easy it is to squeeze into a busy schedule.
Non-Surgical
Other facial contouring procedures require extensive preparation time and long downtime. But with Evoke, patients are free to walk into our offices and experience a simple, non-invasive procedure that feels like a warm massage. Other procedures can leave scarring or tell-tale redness and peeling. Evoke, on the other hand, lets patients experience its rejuvenating benefits in one of our comfortable treatment rooms –– and feel fine when they leave!
Lunchtime Procedures
An Evoke procedure is so quick and easy many of our patients choose to schedule them over their lunch break. Other procedures require lengthy wait and surgical times. But, for an Evoke procedure, patients just relax comfortably while wearing the device for the next 30 minutes. Over this time, the radiofrequency waves tighten tissue and bring better definition to the lower third of the face.
Candidates
If you are interested in seeing how Evoke can restore your face's youthful appearance, please schedule a personal consultation at our San Antonio offices. If you lead an active life and don't have time in your schedule for long recovery times, Evoke might be a good solution to your skin laxity.  
Personal Consultation
If this is your first time with us, we will begin with a brief new patient intake interview and conduct a physical examination. We will note your facial skin's laxity and examine loose skin around your neck. After learning about your physical concerns and your desired results, Dr. Wendie Grunberg and the team at Alluring Aesthetics will determine if Evoke is right for you. You can read about previous patient experiences by going to our reviews page. Once we have made a personalized treatment plan tailored to your ideal results, we will schedule your first Evoke session.
Procedure
We will begin your Evoke session by making sure you're comfortable in one of our private treatment rooms. The Evoke device is a simple headband with applicators that rest on the treatment area to deliver RF energy. We will strap the Evoke device onto your head and adjust the applicators onto the lower third of your face. Then, all you have to do is relax! The thermal energy from the Evoke device feels like a warm massage. Over the next 30 minutes, you will be able to moderate the heat of the device. After this time is up, we will take off the device and you will be able to resume your daily routine.
Results
For the next 6-8 weeks, we will have you come into our offices for a quick, weekly session. You will notice that the skin on your lower face and neck is improving after each session. Be sure to stay well-hydrated and continue to lead a healthy, active lifestyle. Around your 6th session, we will note where you are and determine if any futures sessions are needed to achieve your desired results.
Other Facial Contouring Procedures
In addition to Evoke, we also offer a procedure that rejuvenates different areas of the face. From surgical to simple injectable, we have just the results you're looking for.
Facial Fillers
Dermal fillers like Juvederm and Restylane are injectable cosmetics that restore lost volume in the face. The fillers are injected directly into the dermis, where the hyaluronic acid gel plumps lips, under eyes, and cheeks while also minimizing wrinkles and fine lines around the nose, mouth, and temples. 
Injections
Along with fillers, we offer other cosmetic injections like Botox, Dysport, and Sculptra. Botox and Dysport are neuromodulators that interrupt the muscle's ability to contract, causing the overlying skin to remain smooth and prevent creasing. Sculptra, on the other hand, incites collagen growth in the treated area for restorative volume. 
Facelift
For patients with more prominent signs of aging, or looking for a long-term solution to lax facial skin, a facelift may be the appropriate solution. Facelifts are one of the most popular surgical facial procedures performed today for this very reason. Dr. Grunberg is able to perform this procedure with discreet incisions and successfully adjust the underlying facial structures, eventually redraping skin for a natural-looking, refreshed appearance.  
How Much Does Evoke Cost in San Antonio?
The cost of your treatment will depend on your personalized plan. We will discuss and determine the cost of your care during your initial consultation. Check out our specials page to see what we have currently available. If you would like to speak with us directly, please call our front offices at (210) 714-5390.
References