Breast Reduction
Offered at our convenient location in San Antonio, TX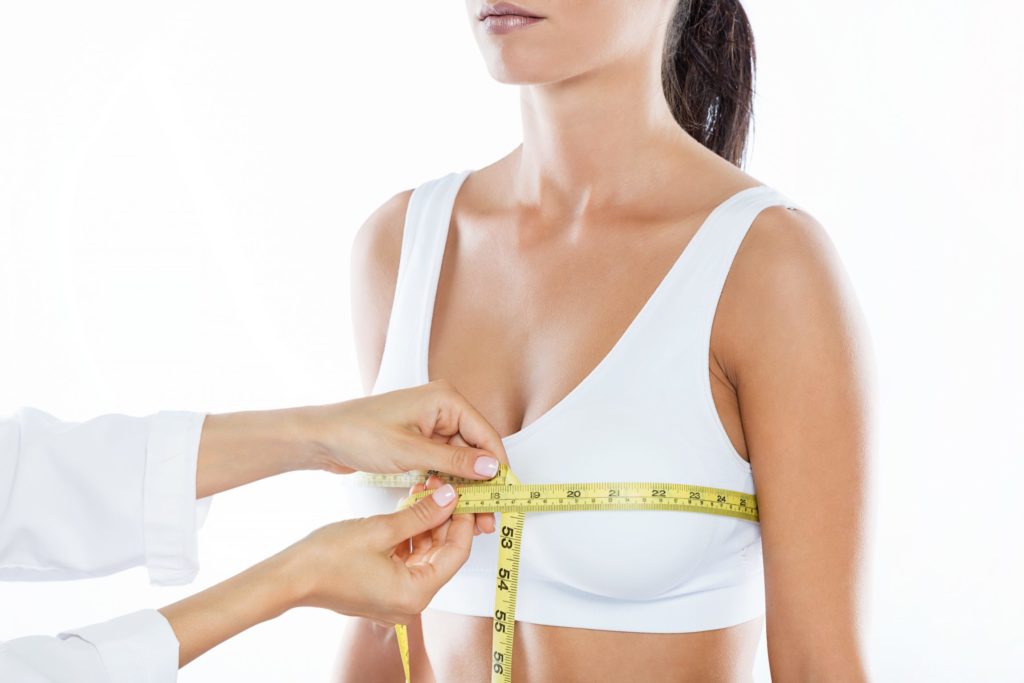 Breast reduction surgery, also referred to as reduction mammaplasty, removes excess fat, glandular tissue, and skin from the breasts. The goal is to achieve a breast size that is more in proportion with a woman's body and alleviate the physical and emotional discomfort that overly large breasts cause. There are many factors that can cause breasts to become enlarged, and many women find their quality of life impacted. In the medical world, this is referred to as breast hypertrophy, and women with very large breasts suffer from a condition called macromastia. (1)
Perhaps over time or as a result of weight gain, your breast size has led to unrelenting pain in your back, neck, or shoulders. Medication may help to relieve the discomfort, but it doesn't address the cause. Larger breasts can also cause skin irritation and chafing. If having a larger breast size has made you uncomfortable since your teenage years, a breast reduction can let you finally enjoy more of life. And, imagine finally enjoying shopping without limitations on what shirts and bras actually fit! Breast reduction surgery is a permanent solution to these concerns. If you are looking for a new and improved reality, one where your breasts aren't a constant source of frustration or discomfort, a breast reduction may be right for you.
Dr. Wendie Grunberg helps patients exercise more control over their bodies with a smaller, more manageable breast size and beautiful results! If you currently experience pain or feel self-conscious about having large breasts, we invite you to contact Alluring Aesthetics in San Antonio today. Call (210) 714-5390 to schedule a personal consultation and learn how a breast reduction can improve your quality of life.
About Breast Reduction Surgery
During a breast reduction, a surgeon removes excess fat, glandular tissue, and skin. The surgeon may also utilize liposuction techniques depending on a patient's surgical and aesthetic needs. Reducing a patient's breasts to a more proportional size can boost her confidence and allow her to interact more comfortably in social situations. Breast reduction surgery also lessens chronic back and shoulder pain by removing the pressure caused by the weight of larger breasts and improving posture. (1) While it's impossible to avoid some amount of scarring from a breast reduction, any evidence of the procedure is on the lower pole of the breast, the area beneath the nipple. Surgeons use incision patterns that have been developed to minimize the amount of scarring visible. And, most women are more than happy to trade in the challenges of overly large breasts for a few thin scars!
High Rate of Satisfaction
Satisfaction with the procedure is high and long-lasting. In one survey, more than 77% of patients were pleased with the results of breast reduction surgery 15 years later! (1) In another study, 88% of patients experienced improved physical symptoms from mammoplasty reduction. (2) The challenges of overly large breasts often begin at a young age, making the already difficult task of being a teenager even worse. Dr. Grunberg performs this life-changing surgery so that women can spend the rest of their lives feeling good and enjoying their bodies.
Before and After Photos
Candidates
Healthy women with realistic expectations for breast reduction surgery are ideal candidates for the procedure. You may also be a good candidate for breast reduction surgery if you:
Are a non-smoker
Are bothered by the large size of your breasts
Currently experience discomfort in the neck, shoulders, or back due to breast weight
Find that your physical activity is limited by the size of your breasts
Have shoulder indentations from bra straps
Experience rashes and chafing underneath breasts
Are unhappy with drooping breasts and nipples that point downwards
Have poor posture from breast weight
Are self-conscious about your breasts and experience low self-esteem as a result
Personal Consultation
Dr. Grunberg knows that every woman has the potential to become the best version of herself. As a board-certified plastic surgeon with a proven track record of beautiful results, she is dedicated to giving every patient the opportunity to address their concerns and improve their life. During your private consultation, Dr. Grunberg and you will discuss the current challenges with your breast size, goals for breast reduction surgery, and review your medical history. She will also share examples of past patients' "before" and "after" images so that you can get a better idea of the kind of results that can be achieved and identify the breast shape and size that you would like to achieve through surgery. If you are ready to take the next step toward a more physically, emotionally, and mentally liberating existence with breasts that make you happy, contact us at our San Antonio office today at 210-714-5390 to set up a consultation with Dr. Grunberg. 
How To Prepare For Breast Reduction Surgery
To adequately prepare for breast reduction surgery, we recommend our patients:
Undergo a medical evaluation and lab testing
Avoid blood-thinning medications, vitamins, and supplements to minimize bleeding, bruising, and swelling post-operation
Get a baseline mammogram
Avoid smoking to prevent complications in recovery
Adhere to a nutritious diet rich in fresh fruits, vegetables, and lean protein; low in refined carbohydrates; and rich in antioxidants
Arrange a ride home and a caregiver for immediately after surgery
Following these recommendations places our patients one step ahead of the recovery process, laying a foundation for a smooth recovery and satisfying results.
Procedure
The goal of breast reduction surgery is to remove enough fat, skin, and tissue to achieve optimal proportions with a natural-looking, aesthetically pleasing breast shape. (3) Breast reduction surgery is performed under general anesthesia, which will be administered by a board-certified anesthesiologist. There are several different incision patterns used during breast reductions. Dr. Grunberg will employ the incision technique that will best allow her to achieve your desired results while also keeping scarring to a minimum. Common incision patterns include an incision that encircles the areola and then travels downward in a vertical line from the bottom of the areola to the inframammary crease. Additional incisions can be made to relocate the areola to a significantly higher position on the breast and to accommodate women needing a substantial amount of tissue removed. Liposuction techniques may also be required to improve breast shape and remove additional fat. (4)
Regardless of the incision pattern and techniques used, the goal remains the same: remove excess glandular tissue and fat, reposition the nipple-areolar complex to a higher perkier location on the breast, and remove strategically shaped areas of skin so that when the incisions are closed, the lightened breast is beautifully lifted. Dr. Grunberg is careful to always ensure that the shape of the breast is meticulously sculpted and that scarring is kept to a minimum whenever possible.
Recovery
After the surgical procedure, Dr. Grunberg will bandage the breast area and the incisions. A thin tube may also be placed under the skin to drain excess blood or fluid temporarily. Dr. Grunberg will equip you with a post-operative bra to wear after the operation. After a brief recovery period of one to two hours, you will be discharged to your pre-arranged caretaker to drive you home. We recommend that you request two weeks off from work for the first stage of recovery.
In the first week, we recommend rest as your body begins the healing process. You should maintain healthy eating habits; stay hydrated, and take short leisurely walks to maintain proper circulation.
In the first month, which still constitutes the early stage of recovery, we encourage you to continue to avoid strenuous activity, though low-impact exercise is recommended. During this time, your incisions will heal and Dr. Grunberg will provide the "okay" to return to work. Furthermore, we recommend that you continue wearing loose-fitting clothing to permit maximum breathing room for healing at the incision sites. You should begin to feel the results in this short time: reduced neck, back, and shoulder pain; better clothing fit; improved posture; and freedom of movement. As your incisions heal, Dr. Grunberg may also recommend a silicone-based product to minimize scarring.
Breasts will achieve a softer feel and take a more natural, teardrop shape within months of treatment. Full results will be visible within 12 to 18 months of surgery.
Results
Breast reduction surgery carries long-lasting benefits and an overall increase in quality of life for our patients. Results are permanent and visible immediately, with full results after three to four months as surgical scars fade and swelling goes down. To maintain long-term results, we recommend establishing healthy nutritional and exercise habits. Fluctuations in weight can lead to changes in breast size and shape.
Cost Of Breast Reduction In San Antonio
Because reduction mammoplasty is customized to each patient, costs will vary. After your initial consultation, Dr. Grunberg will be happy to provide an accurate quote for procedural costs. Your insurance provider may cover a portion or all of the costs if you seek breast reduction surgery for medical reasons.
FAQ
Are there any risks associated with breast reduction surgery?
Yes, every surgical and non-surgical procedure carries risk. Breast reduction includes the standard risks that accompany surgery and general anesthesia. Some patients experience more difficulty breastfeeding after breast reduction surgery. Because we can't predict the outcome of each patient, we do recommend making the best decision for yourself when it comes to getting breast reduction surgery. (5) For some, this might mean delaying breast reduction surgery after you're done having children. Some women may also experience long-term changes in nipple sensitivity after the surgical procedure. For most, however, sensation in the nipple does return within one to two months of surgery. Ultimately, we recommend that you weigh the overall benefits with the risks to determine if the procedure is right for you.
References