Tummy Tuck (Abdominoplasty)
Offered at our convenient location in San Antonio, TX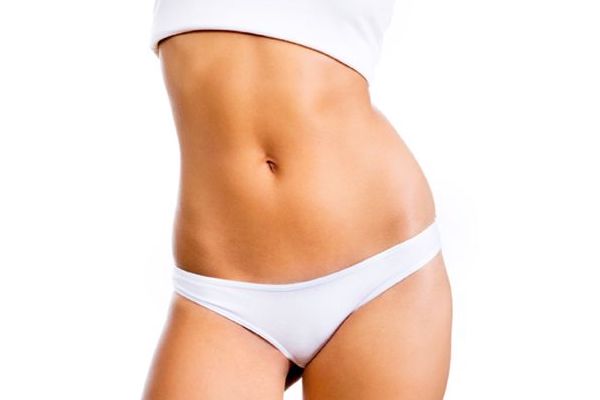 Have you spent hours and energy working out to tighten your stomach? What about counting calories and watching what you eat in order to flatten your belly? Pregnancy and weight loss are two significant milestones that deserve celebration. But, after the party is over, you are still left with excess skin and stubborn pockets of fat around your waist. Even the strictest diet and exercise regimen will not allow your body to snap back to its taut and leaner proportions.
This is where Dr. Wendie Grunberg, DO comes in!
Dr. Grunberg is a double board-certified plastic surgeon who has a special affinity for body contouring. A tummy tuck by Dr. Grunberg will smooth and shape your midsection, giving you even more reason to celebrate your weight loss efforts! By getting rid of the excess tissue around your belly, Dr. Grunberg can help you look and feel your best. If you are curious about abdominoplasty in San Antonio, contact Alluring Aesthetics today to schedule a consultation.
What is a Tummy Tuck?
Tummy tuck surgery, also known as abdominoplasty, is a surgical procedure that removes excess fat and skin in the midsection, most commonly after weight loss and/or pregnancy. In most cases, it allows for restoration of weakened or separated abdominal muscles. This creates a silhouette that is smoother and firmer. This procedure can be combined with other body contouring services for even better results. Specifically, Dr. Grunberg can perform liposuction of the abdomen to further transform your profile, removing the exercise-resistant fat deposits just under your skin.
Please keep in mind, a tummy tuck is not meant to be a "fix-it-all" solution for weight management. An appropriate diet and/or exercise plan should still be developed and adhered to in order to achieve the best results.
Before and After Photos
Tummy Tuck Benefits
While many of us dream of a tighter, firmer midsection, it is often unachievable due to several factors in our lives. Aging, genetics, pregnancy, prior surgeries, and significant weight fluctuations can prevent us from looking the way we desire. After an abdominoplasty, many of Dr. Grunberg's patients report enhanced self-esteem and greater physical comfort within their bodies. Additional benefits of opting for a tummy tuck include:
Slimmer waistline
Smoother contours
Better fitting clothes
Flatter stomach
Safe, customized procedure
Long-lasting results
If you are ready to realize the benefits of a tummy tuck for yourself, consult with Dr. Grunberg. Contact us now to book a convenient virtual consultation.
Abdominoplasty Candidates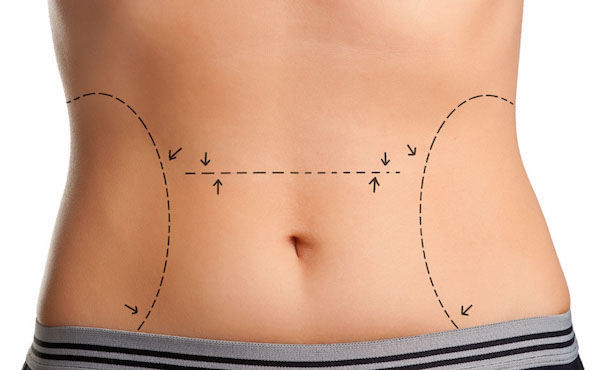 Ideal tummy tuck patients are healthy adults who are unhappy about the appearance of their midsection. They have excess skin and fat hanging from their belly, causing them physical and/or emotional discomfort. Those looking to undergo abdominoplasty may experience protruding love handles and possible diastasis recti (separating of the abdominal muscles).
If you are a man or woman looking to reduce your belly flab and get ready for the more toned you to shine through, reach out to the helpful staff at Alluring Aesthetics! They will be glad to assist you in scheduling a time to meet with Dr. Grunberg to discuss your body goals!
Your Tummy Tuck Consultation
A private, one-on-one consultation is your first step on your body contouring journey with Dr. Grunberg. During your appointment, you will have the opportunity to share your goals and expectations of abdominoplasty. Dr. Grunberg will explain the procedure in detail, being sure to answer any questions you may have about the procedure. From there, she will inquire about your health and medical history and perform a physical examination of your abdomen.
It is during this thorough assessment that the doctor will determine whether or not a tummy tuck is right for your and your specific needs. If she believes another procedure will be better suited to meet your aesthetic goals, she will provide you with her professional medical opinion.
If a tummy tuck is the best solution for you, it's time to start your preparation! Dr. Grunberg will provide specific instructions regarding how best to prepare for surgery. She will also work with you to create a customized abdominoplasty treatment plan that addresses your concerns and desires. The Alluring Aesthetics patient coordinator will meet with you to discuss associated costs and payment options.
Preparing for Your Abdominoplasty
Dr. Grunberg and the staff at Alluring Aesthetics will be more than happy to guide you through this transformational process. During your consultation and pre-operative appointment, you will be given instructions on how to prepare for your tummy tuck surgery.
Each patient is unique and requires a different set of instructions that are specific to their case.
Generally, patients will be directed to stop smoking as soon as possible. You may also need to stop taking any medications that thin your blood, such as ibuprofen, aspirin, certain prescription medicines, and herbal supplements. You will not be permitted to eat or drink from 12am the night prior to surgery. Dr. Grunberg will inform you to appoint a trusted adult to drive you home after your procedure and stay with you for 24 hours. Any medications prescribed by Dr. Grunberg should be filled and made available prior to surgery day. We want to ensure you have a safe surgery and successful recovery. By doing your part and following all instructions closely will help you achieve the best results!
Tummy Tuck Surgery in San Antonio
On the day of your procedure, you will meet with Dr. Grunberg to review your treatment plan. She will make sure you are comfortable with your decision to undergo abdominoplasty at this time. She will mark your belly using a surgical marker to highlight anatomical landmarks, areas of focus, and incision sites. Once you are in the operating room, you will be given anesthesia to keep you comfortable throughout the procedure.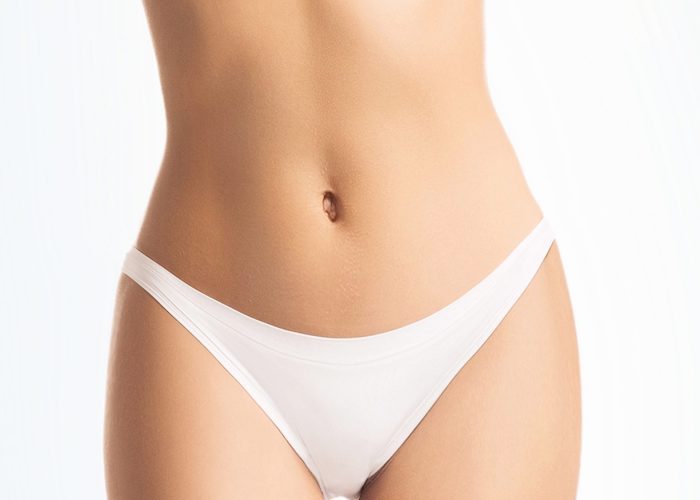 After the anesthesia has taken effect, Dr. Grunberg will perform the tummy tuck procedure according to your treatment plan. This may include liposuction of the area and tightening the abdominal muscles. From there, she will remove the lax skin from your belly. The remaining tissue will be gently lifted and pulled taut over your stomach. The belly button, while never detached from your body, will be relocated, as needed. Once Dr. Grunberg achieves the flatter and smoother silhouette of your midsection, she will expertly close the incisions, leaving you with a slimmer, cinched waist!
Tummy Tuck Techniques
There are several approaches to abdominoplasty Dr. Grunberg can perform to help you reach your body sculpting goals.
Mini Tummy Tuck
The mini tummy tuck is ideal for patients who have relatively good skin tone above the belly button. This approach works well for women who experience loose skin at the lower portion of their abdomen. The mini tummy tuck begins with a short incision right above the pubic area. Lax skin below the belly button is removed and the remaining tissue is gently pulled down to securely close the incision.
Full Tummy Tuck
In this approach, an incision is made low on the waistline, stretching from hip to hip. The skin on the abdomen will then be lifted up to the ribs or breastbone with the belly button detached from the surrounding skin. The loose, extra tissue is then excised and what remains is pulled taut. The navel is repositioned and the incision is closed with sutures.
Extended Tummy Tuck
The extended tummy tuck is performed on patients who may have undergone significant weight loss. They may need to remove excess skin and fat around the entire midsection, including the flanks and lower back. Because of this, the incision will be made low on the abdomen and stretch around to the sides of the back. Like the full tummy tuck, the belly button is repositioned.
Complementary Procedures
A tummy tuck may not be complete without additional contouring of the belly, flanks, and back. Dr. Grunberg can help you get rid of the bulges with a liposuction procedure. To begin, tumescent fluid is injected into the treatment area and a hollow, thin tube, called a cannula, is inserted under the skin. Using gentle suction, the cannula removes the fat stores responsible for the muffin top and love handles.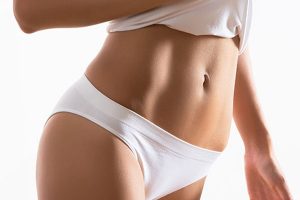 Correcting a diastasis recti is a straightforward procedure that is usually performed with abdominoplasty. Once the abdominal skin is lifted away from the muscle wall, Dr. Grunberg will outline the center edges of the rectus muscles with a sterile marker. Using this as a guide, she will suture the muscles together, much like repairing a tear in an article of clothing. This will allow your six-pack to make an appearance once you have recovered from surgery.
Recovery
Following your tummy tuck procedure, you may experience swelling and discomfort around your abdomen. You will need to wear compression garments continually, until Dr. Grunberg directs you otherwise. The compression helps to mitigate post-op swelling and allows your body to adhere to its new contours. Drains may have been placed in your incisions to prevent fluid build-up under your skin. It is important to carefully move about to maintain healthy circulation to aid in successful healing. You will need to avoid strenuous physical activity for about 6 weeks. You may be able to return to work after about 2 to 4 weeks, post-op.
Abdominoplasty Results
The results of your tummy tuck will be immediately noticeable. Once you have healed from surgery, your firmer, smoother profile will be apparent. You may experience increased confidence and notice your clothes fit better than before. If you struggled with an apron of excess skin prior to abdominoplasty, you may feel relief from discomfort caused by chaffing and rubbing of your skin. Overall, Dr. Grunberg's patients are more than satisfied with their tummy tuck results! Take some time to read the glowing reviews about our patients' experiences with Dr. Grunberg's impeccable care, skill, and talent.
You can be among our amazing patients! Schedule a private consultation today to learn more about abdominoplasty in San Antonio!
FAQ
HOW MUCH IS A TUMMY TUCK IN SAN ANTONIO?
Abdominoplasty is a highly customized procedure. Because of this, cost will vary between patients. Dr. Grunberg will create your individualized procedure plan and this will inform the final cost of your surgery. To receive an accurate quote for your tummy tuck procedure, schedule a consultation today!
DO I NEED A TUMMY TUCK OR LIPOSUCTION?
Liposuction is a minimally invasive procedure to remove pockets of fat under the skin in different areas of the body. Using vacuum pressure, the fat is physically removed from the body. If you struggle with some exercise- and diet-resistant bulges and have good skin tone at the treatment site, liposuction may be the solution for you. If you have loose skin on your abdomen due to significant weight loss and/or pregnancy, a tummy tuck may be best for you. Dr. Grunberg achieves best results with a combination liposuction and abdominoplasty procedure. 
The only way to determine the best procedure for your goals is to attend a consultation with Dr. Grunberg. Contact us today to get on the schedule!
HOW LONG DOES A TUMMY TUCK LAST?
The results of your abdominoplasty with Dr. Grunberg are long-lasting! Barring any significant fluctuations in weight or future pregnancies, you can enjoy your taut figure for years to come! You should keep up with a healthy lifestyle in order to maintain your results. A tummy tuck is not a weight loss treatment, but rather, a body contouring procedure. If you anticipate any future pregnancy, it may be best to wait after childbearing to consider or undergo abdominoplasty.
Additional Resources
American Society of Plastic Surgeons. (2020). Tummy Tuck: Abdominoplasty. Retrieved from https://www.plasticsurgery.org/cosmetic-procedures/tummy-tuck
Mayo Clinic. (2019). Tummy Tuck. Retrieved from https://www.mayoclinic.org/tests-procedures/tummy-tuck/about/pac-20384892