Breast Augmentation With Lift
Offered at our convenient location in San Antonio, TX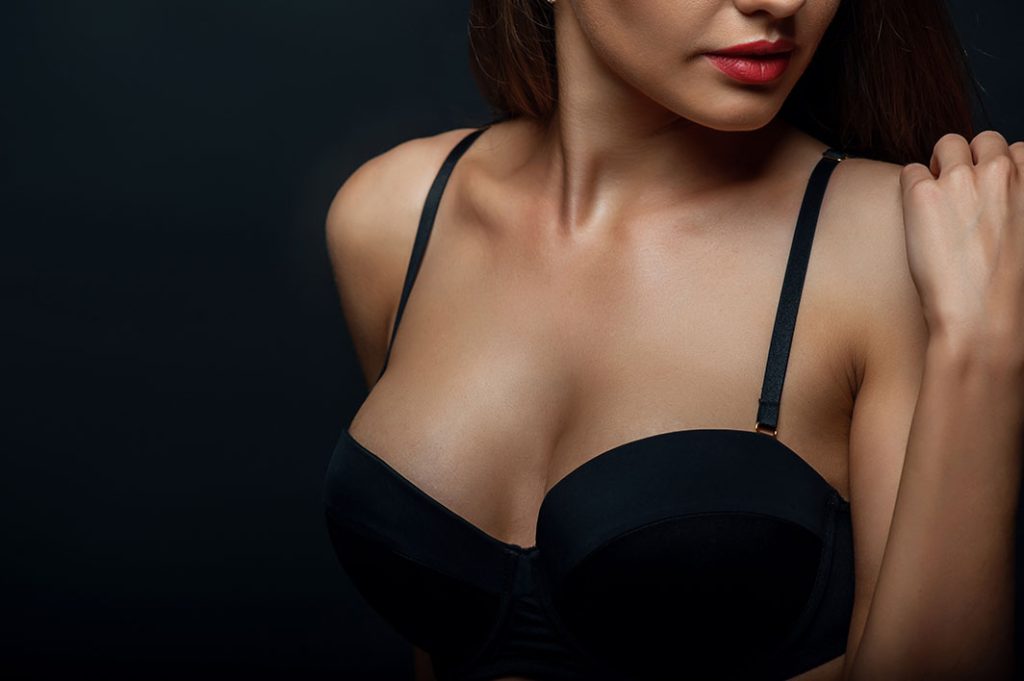 A breast augmentation with a breast lift is a comprehensive surgery that addresses multiple aesthetic breast issues in one single procedure. Also called breast augmentation mastopexy, or BAM for short, this procedure raises the breasts to a higher placement on the chest wall, while also addressing breast volume, shape, and projection.
Aging, genetics, pregnancy, and weight fluctuations over the years change the shape of our bodies. Coupled with the effects of gravity, all of these factors can affect the appearance of the breasts. Over time, we may experience skin sagging, a loss of firmness, deflated volume, and a less defined breast shape. These changes can be challenging, to say the least. They can affect our self-confidence, and what we choose to wear. An augmentation with mastopexy procedure provides a targeted solution to address unwanted changes in the breasts in one convenient surgery.
At Alluring Aesthetics, Dr. Wendie Grunberg and Dr. Edward Gronet specialize in body contouring and breast procedures that can make you look your best and feel more confident! So, whether you're dealing with the effects of gravity, time, pregnancy, genetics, or a combination of factors, we invite you to set up a personal consultation with us today. Call (210) 714-5390 to book your appointment and find a beauty-enhancing solution.
Changes in the Breast
As we age, skin loses its elasticity and can begin to sag. This sagging is known as ptosis. The breasts become larger with age, weight, and hormonal changes. These changes cause skin, supporting ligaments, and ducts to stretch. When breast volume decreases, these tissues then fail to return to their original shape and position.  An area of the breast known as the nipple-areola complex (NAC) descends, which causes a common, but embarrassing physical change; downturned nipples. (1)(2) Breast ptosis can be measured on a graded scale with two additional subtypes of breast sagging.
Grade 1: Mild sagging
Grade 2: Moderate sagging
Grade 3: Significant sagging
Pseudoptosis: The nipple angle is normal, but there is more tissue in the lower pole of the breast
Parenchymal Maldistribution: Less fullness in the bottom portion of the breast, causing a "tuberous" breast
Oftentimes, women want more than just implants from breast surgery. They want to correct breast sagging so their breast projection and nipple position is also improved. That's why a combination of implants and a breast lift is such an effective surgery!
Choosing Your Implants
Choosing the right breast implants is an important part of the preparation for your breast surgery. A breast augmentation procedure involves a tailored treatment plan drawn up by your plastic surgeon. At your personal consultation, they will explain the benefits of the two types of implants she offers; traditional silicone or gummy bear. The standard silicone implant is a semi-thick gel encased in a silicone shell. The gummy bear implant is different as the gel inside is thicker, which allows it to more closely mimic the appearance of natural breast tissue.
Implant Considerations:
Shape: Patients can choose round or teardrop-shaped implants. Round implants add volume and fullness to the entire breast. Gummy bear implants are available in teardrop shape, which are fuller and rounder at the bottom to naturally resemble the appearance of a natural breast.
Profile: Breast profile refers to the level of outward projection and location on the chest wall. Implant profile options with low, medium, high, and ultra-high profile. A low profile offers the least amount of projection with a wider base and more natural results. A higher profile offers more projection with fuller, rounder results.
Size: Breast implants are measured in cubic centimeters (cc) rather than cup size. We will measure your breasts and chest wall to determine your natural size. We'll then ask you your preferences and determine the optimal size and shape of the implants.
Breast implant placement: Implant placement will depend on your anatomy as well as desired goals. Implants may be placed in front (subglandular) or behind (submuscular) the pectoralis muscles of the chest.
Benefits
Benefits of a breast augmentation with breast lift surgery include:
Increased fullness and volume in the breasts
Improved breast projection
Removal and tightening of excess skin for firmer breast appearance
Restoration of breast silhouette following breastfeeding
Reduction in areola size (where requested)
Higher elevation of the nipple-areolar complex along the chest wall
Breast augmentation mastopexy corrects mild to severe ptosis in patients. Women who undergo this procedure experience high satisfaction with a new breast profile that boasts tighter, more elevated breasts and nipples.
Candidates
Candidates for a breast augmentation with lift are women who have experienced marked changes in the shape and placement of their breasts due to age, pregnancy and breastfeeding, or weight loss. It can also increase your cup size. If you want more than implants, and want to address breast ptosis, you may be a good candidate for the procedure.
This type of surgery is a safe and effective way for women to figuratively "turn back the clock" with the appearance of their breasts. However, it's not for everyone. If you have a serious health condition, a blood clotting disorder, or another health issue that could affect your results, a breast augmentation and mastopexy procedure may not be right for you. Similarly, if you smoke and would find it difficult to quit for the duration of your preparation and recovery, this procedure may not be a good fit. This is because the chemicals in cigarettes and vapes hinder blood flow, slow healing, and can lead to unwanted complications.
Personal Consultation with Crisalix Technology
Dr. Grunberg and Dr. Gronet consistently deliver results that improve their patients' quality of life. In each consultation, they take the time to learn about the challenges that each patient faces. After an examination, you'll receive recommendations for effective, realistic solutions to sagging and deflation. Crisalix, the latest in virtual imaging technology, will allow you to see what implants with different specifications look like in real life. It does so by creating a 3D rendering of your body using digital photographs. The software augments the virtual model according to specific implant sizing information. 
To learn more about a breast augmentation with lift, and to find out if it's the right procedure for you, contact Dr. Grunberg and Dr. Gronet today in San Antonio by calling (210) 714-5390. 
Preparation
To prepare for breast augmentation mastopexy, we require that you:
Review your medical history and current medications to avoid complications.
Avoid blood-thinning medications such as aspirin, Motrin, and Ibuprofen.
Avoid anti-inflammatory drugs.
Get a mammogram to establish up-to-date breast health status.
Stop recreational drug use.
Quit smoking.
Procedure
During a breast augmentation with lift procedure, the plastic surgeon lifts and reshapes breast tissue with silicone implants and skin excision. After administering anesthesia, the mastopexy is performed first, and will use one of the following techniques.
Stage 1: Breast Lift
Donut Technique
This technique involves a circular incision around the areola. A donut mastopexy is ideal for women with smaller breasts experiencing minor ptosis. (2)  Patients achieve a tighter, perkier breast, and a  moderately lifted nipple. 
Vertical Incision or "Lollipop" Technique
The vertical technique consists of a circular incision around the patient's areola and then an incision straight down towards the breast fold. The vertical technique results in higher elevation of a patient's areolas and nipples, and improved breast projection. (1)
Anchor Technique
The anchor technique treats severe ptosis and takes its name from the anchor-shaped incision made. The vertical incision is combined with an incision along the inframammary fold, where the bottom of the breast meets the chest wall. This technique achieves higher placement of the nipple-areolar complex on the chest wall, which leads to a natural-looking, more striking projection.
Stage 2: Breast Augmentation
Once the mastopexy incisions have been made, the surgeon will open a breast pocket to insert the chosen implant. They will may use a sizer to estimate the ideal implant volume and to also identify the optimal breast shape for the patient. (4) The sizer will then be removed and the implants gently placed into each breast pocket.
Finally, they will tighten the surrounding skin and close the incisions. They will layer sutures within the breast tissue and may also use surgical tape or skin adhesives to aid with healing.
Recovery
The key to a successful recovery is to follow all post-operative instructions and to attend all follow-up appointments. You will also receive specific directions on the use of a compression garment. Patients should expect swelling and bruising in the breasts, which will resolve as healing progresses. Discomfort can be managed with pain relief medication. After one week, patients may resume non-strenuous physical activity such as walking or running errands. Avoid strenuous physical activity, lifting, and straining for four to six weeks.
Results
After your surgery, you will experience firmer, smoother breasts with perkier, lifted contours. Patients who undergo this procedure experience fuller, more voluminous breasts with improved projection. You should expect swelling to reduce over time. Mastopexy with breast augmentation will not produce immediately visible final results, but when they do materialize, they will be striking! Most patients can expect to see their final, lasting results in 4-6 months. For some patients, this process may take more than 6 months.
Cost of Breast Augmentation with Lift in San Antonio, TX
The cost of breast augmentation with lift surgery is contingent on the patient's goals, implant size, severity of ptosis, and additional surgical costs (anesthesia, facility fees, and other expenses). We will be glad to share a cost estimate in a private consultation after learning more about your individual needs and goals. Call Alluring Aesthetics at (210) 714-5390 or contact us online to book your breast surgery consultation.
Join over 11,000 others by following Alluring Aesthetics on Instagram!
References