Brotox & Dysport
Offered at our convenient location in San Antonio, TX
These days, the number of men choosing to have cosmetic surgery has gone up considerably. Studies have shown many men feel pressured to maintain a younger appearance in an increasingly competitive job market, and cosmetic procedures are one way to accomplish this. We offer two treatments to help men do just that: BOTOX (which is sometimes nicknamed "Brotox" when used on men) and Dysport.
Both BOTOX and Dysport are facial rejuvenation injections that temporarily freeze muscles under the skin, leaving the skin appearing smoother. The cost of each treatment varies based on how many areas are treated, and we can provide an estimate at the time of your consultation.
We're proud to offer both BOTOX and Dysport to our patients, so let us work with you to determine which one is the right treatment for you. Call us today to request a consultation.
BOTOX is the first and only treatment that the FDA has approved to lessen the appearance of moderate to severe frown lines, forehead lines, and crow's feet. The treatment usually only takes minutes, and you'll be back to your normal routine quickly. BOTOX's results appear quickly – you may begin to notice them in as little as one or two days – but they're subtle, so you'll still look like yourself, only better. Full recovery usually takes 24-48 hours.
Dysport is a great treatment if you're hoping to focus on the area between your eyebrows. After just one treatment, which only takes 10-20 minutes, you could see improvement for up to 4 months. Plus, the treatment comes with minimal downtime, so you'll be back to your routine before you know it.
Before and After Photos
Fillers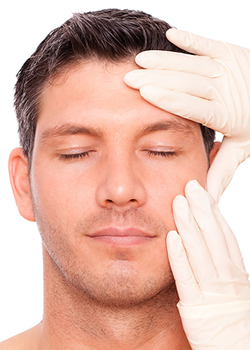 In addition to "Brotox" and Dysport, many men are also turning to fillers, a type of minimally invasive surgery used treat many different areas of the face, including the cheeks, fine lines and wrinkles, and the lips. Fillers can help you smooth out wrinkles and correct acne scars. They give your face a more refreshed, youthful appearance.
Fillers are typically injected right in the problem area. Usually made of a special medical gel, these fillers can continue to deliver results for a year or more after treatment. When patients come back for re-treatment, they often need less gel than they needed during their initial treatment. Full recovery from fillers usually takes 24-48 hours, but you can often get back to your routine right away.
We use a wide range of different fillers in our practice:
JUVÉDERM Ultra (Lips)
JUVÉDERM Ultra Plus (Deep Creases & Nasolabial Folds)
Voluma (Cheeks)
Volbella (Under Eyes)
Volbella (Fine Lines Around Mouth)
Vollure (Lips & Nasolabial Folds)
Restylane
Restylane Silk
Restylane Lyft
Restylane Define
Restylane Refyne
As you can see, the options are very nearly endless. Our team will collaborate with you to determine which filler is the right option for your areas of concern. We'll also provide an estimate of the cost at the time of your consultation.